One of the many curiosities of our neighbourhood birds, is our lack of understanding of their nomadic behaviour. But modern technology is starting to give us clues. By placing tiny chips into bird's bodies, it is allowing bio-scientists to not only monitor their movements but build a picture of their life patterns. Melbourne University's myswan.org is already involved in ground breaking research of the Black Swan.
In the Sanctuary Lakes neighbourhood there are numerous nomadic visitors, some who annually stop here for just a few days, others that make four or five visits a year, some arriving as small families, with others as large flocks. For this month's Rubik I have chosen three very regular native Australian visitors, each with their own story for enjoying the delights of our neighbourhood.
First up, the sparrow sized and distinctive coloured Yellow-rumped Thornbill.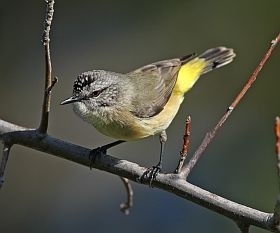 Yellow-Rumped Thornbill Acanthiza chrysorrhoa
A small family of about half a dozen Yellow Rumps are visiting us and can be seen presently around the bushes and native vegetation near the maintenance sheds and at the bottom of the driving range. A relatively small bird at approximately 9.5–12 cm in length; but as the name would suggest it has a very eye catching, striking, bright yellow rump and a distinctive black forehead with white spots. There is a thin white line above the eye, a whitish throat, grey head and neck. It has a short tail with a long slender black bill. The belly is white with light buff below the wings. The wings are grey and the tail is black.
Yellow Rumps mainly feed on the ground, moving in a series of jerky hops picking up insects, spiders, caterpillars and occasional seeds all of which is readily available in our Green Spaces. When fly hopping the tail is frequently fanned briefly exposing the yellow rump.
Hopefully our visiting Yellow Rumps are here to breed, which takes place between July and December. One female forms a breeding group with several males and this co-operative can raise up to four broods in a good season. The Yellow Rump's nest is very unusual. A small untidy structure of grass and bark on two levels: an upper 'false' cup-shaped nest and a lower, domed, nest-chamber with a hooded entrance. The function of the false nest is not clearly understood, with many theories being put forward, such as: deterring predators, a roosting place for male or fledglings, a 'practice' nest for the helpers or as a 'displacement' activity for males. Whatever the reason the nest only lasts one brood so the co-operative is constantly nest building during the breeding season.
The Yellow Rumps are regular visitors but they are also common nomads in our area's shrublands, along the watercourses, in parks and gardens.
Our second regular Aussie visitor is the small bird of prey, the Black-shouldered Kite.
Black-shouldered Kite Elanus axillaris
A pair of Black-shoulder Kites have been staying with us for the past six to eight weeks. They have been seen from Skeleton Creek through Breezewater and up past the maintenance sheds to the starter's hut area. They have also been seen around the driving range and the green space between Pinnacle and the lake.
For a bird of prey Black Shoulders are relatively small, measuring around 35 cm in length with a wingspan of 80–100 cm. Adults have predominantly grey-white plumage and prominent soft reddish-brown markings on its head above its dark red eyes. The nostrils are yellow, as are its legs and feet. It gains its name from the distinctive black patches on its wings. It has a direct flight with quick shallow wing beats interspersed with glides on upswept wings (like a seagull), and is often seen hovering, with feet dangling.
Black-shoulder Kites feed mainly on rodents and small mammals, particularly mice, rats, young. rabbits and hares, often following rodent plagues in agricultural areas. It will also eat lizards, snakes and larger insects such as grasshoppers. It prefers to hunt during the day, particularly early morning and late afternoon, often hovering with its wings held upright in a V-shape, before dropping down and grabbing prey with its talons. Prey items are eaten while flying or on a perch, which can be a high tree or an artificial structure like our boulevard light poles.
Black-shoulders are nomadic following their rodent food supply and enjoy living in grasslands, wastelands and coastal areas.
Breeding season is from August to December, therefore like the Yellow Rump family it is hoped that the pair presently visiting us might look to breeding here. Nests are a platform of sticks 27-45 cm across, lined with green leaves, bark or fur, usually hidden in the canopy of a living tree, or occasionally an artificial structure. Three to four eggs are laid, and hatch after a month. Juvenile birds are dependent for a month and then often disperse widely (up to 1000 km).
Our third regular Aussie visitor can be described as both nomadic and migratory. Over the past few years in flocks of over fifty birds, it has regularly visited Sanctuary Lakes for a few weeks in late August September and then again in February March. It is also known to take a short minor migration to northern NSW and Southern Queensland in the winter months. This little traveller is the Fairy Martin.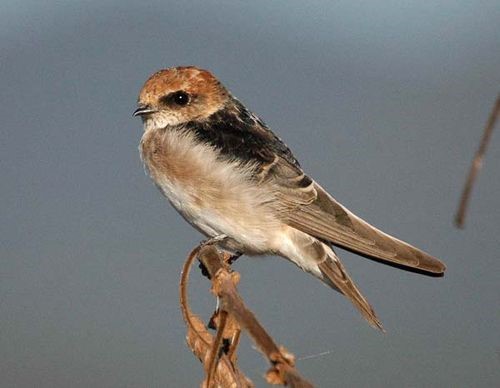 Fairy Martin (Petrochelidon arie
The best description of the Fairy Martin was a Sanctuary Lake's neighbour who told me there was a large flock on a fairway of what he thought were Swallows but on closer inspection they obviously had different markings.
The Fairy Martin is slightly smaller (12cms) than the Welcome Swallow (15cms), with darker wings, a whitey-brown underbody and a pinkish-red head whereas the Swallow has its pinkish red colour under its beak and above its white breast. The Fairy Martin has a short, slightly forked tail that appears square in flight. They feed on flying insects that they catch on-the-wing high in the air column. It is gregarious, feeding in large flocks and nesting in colonies. It enjoys open green spaces and being close to water.
The Fairy Martin is sometimes called the Bottle Swallow, because its nest, made from tiny pellets of mud or clay, is bottle shaped. The nests are often placed in colonies in culverts, roof eves or under bridges. The entrance to each nest is via the horizontal spout.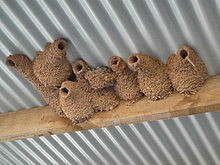 Fairy Martin's bottle nests
Although our bio-scientist are building a picture of our nomadic Aussie visitors, it is hoped that with the new chip technology they will be able to tell us the who's, the whys and where-fore's of our regular Aussie visitors.
Once a year I try to write an article about the history of our area, the Western Plains, Point Cook and Sanctuary Lakes. Last year while researching I found a drawing by the original architect, Chris Honey, which was the very first sketch of Sanctuary Lakes Resort, its lake, its golf course, houses and property.
As you can see everything is outlined within the sketch; the lake and its butterfly islands, the entrance, the circuit of the boulevards and the shape of the golf course.
I have always been fascinated by the moment when an idea leaps out of the creator's mind and becomes visual or audible so that it can, for the first time, be communicated.
It is the singularity before the big bang.
It is the moment that a concept becomes a reality.
It can now be seen.
It can now be discussed.
Working with Chris Honey was the original Sanctuary Lakes engineer and now SLC Vet golfer, David Hunter. Fortunately, we met playing a round and discussed how he and Chris, standing on a bare moon-scaped setting of basalt rock salt pans and decaying wooden pumps, conceived that this was the ideal location for an up-market residential development attached to an International Golf Course and Melbourne's largest lake.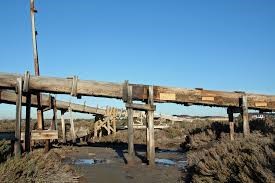 The landscape that David and Chris sourced their inspiration of Sanctuary Lake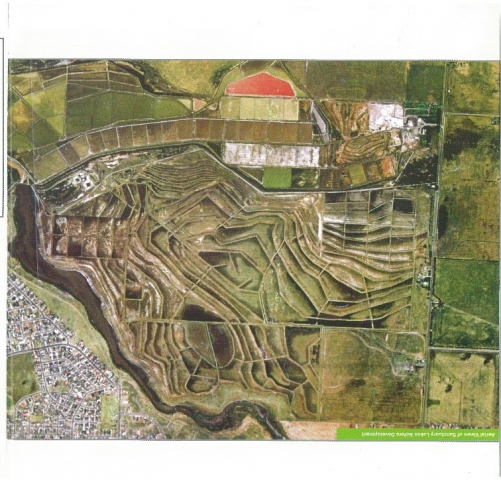 Aerial view of Cheetham multitudes of salt pans covering what is now Sanctuary Lakes
After a couple of months in the maturing pit of my mind, I sent David a letter outlining my thoughts and the basis of an article based on the Chris Honey Sketch
Hi David
Here are my initial questions based on viewing Chris Honey's first concept drawing of Sanctuary Lakes.
What I would like to know and write about is, what were the 'gravitational waves' that pushed the idea?
What were Developer Michael Tan's riding instructions?
What was the reality of the landscape you were going to build upon?
Was it really a moonscape, were there trees, bushes hedges? Or simply basalt rock salt pans.
Why a lake and what inspired it?
Why the Butterfly shaped islands?
Why the position of the Entrance? Did it already have the impressive Red River Gums growing?
What were your thoughts when you first saw the location?
What did you think when you first saw Chris Honey's water colour sketch plan? Was it a Eureka moment or was it a vision of almost impossible mountain to climb or both?
I am sure your answers will create more questions but at least it is a start. Hopefully we can have a quick chat this Monday at the Vets check in and arrange a meeting for a discussion
Thanks for your help
Best wishes
Tom
His wonderful reply (below) was way beyond my expectations. It tells a gripping story of how the Sanctuary Lakes concept happened in a manner that only a person totally involved could tell:
Subject: The singularity
Good morning Tom,
Thank you for the opportunity to put down my memories of the process. I had been involved with the land well before it was purchased by Michael Tan. I was working for IEL at the time and negotiated the agreements for transfer of the wetlands to the State and the conditions of that transfer. I also worked with the planners to get the site rezoned for residential use. I knew the site intimately and the issues involved with getting it to a marketable state.
In the beginning ……
When the property was being re-zoned by IEL and put up for sale, we prepared what is called a yield plan, which sets out the highest and best use for the land - being residential - and the number of lots that one could expect to get from the parcel. That basically sets the land value. At that stage the expectation would have been 10 to 12 lots per hectare. However, the nature of the site meant that there would be less developable area because of the low-lying land and the requirement to fill it to make it viable for housing. The numbers we did at that stage indicated that the filling would have to be provided for free, if it was all to be developed. Bear in mind that the approach from developers at that stage was that Werribee was "first home buyer" and low cost was the aim.
So the initial plan, prepared in haste and with yield in mind, was for about 6,000 lots, with a water body in the middle. That plan was neither imaginative nor aesthetic. Its primary purpose was to get the value as high as possible. It was an exercise in value setting, not design.
So, when it went to market, there were two options:
a) Avoid too much fill and create a bit of a water body, or
b) Fill the lot over many years with free fill.
Michael Tan was made aware of the sale. He was interested in securing a parcel of land that was able to meet his expectations for a quality development. I was asked to pick him up from the city on a Wednesday morning to take him out to show him the land. The Agent, Frank Nagle, had emphasised that the site "was only 15 minutes from the city". So, the drive out was quick, but achieved the timing objective.
The site in its original form, consisted of a large red brick building and out buildings which were now derelict, dirt roads, remnant salt patches and hectares of evaporation ponds and concentrators. These were a pink colour and caught Michael's imagination about creating a "pink lake". After explaining that the salt concentration was 10 times higher than sea water in order to get that colour, it was agreed that we wouldn't go down that path.
We drove across the site over the next hour or so and ended up at the Skeleton Creek weir. The water body above the weir was bathed in sunlight and water birds. The city skyline beckoned in the distance, with the bay stretching out toward Dromana. The vista was all a sales team could need. Michael turned to me and said, "can you make this happen on that land? Can you make that look like this?" I hesitated, thought for a moment and said, "it's possible Michael, but it will cost more to do."
He thought about that for a while and looked out over Skeleton Creek, turned to me and Frank and said, "I think we can make this work."
We travelled back to the city, within the 15-minute time frame, and made arrangements to meet again that evening to discuss the land.
Over the next few days, Michael asked for some more options on development plans, market advice on sales price and likely planning approval processes. I expect that he was also in discussion with Chris Honey, his architect in Kuala Lumpur and the UK. Chris was a one-man practice who split his time between Cambridge and Kuala Lumpur. He had designed a building for Michael and also a subdivision - urban design.
In the resulting discussions, the concept of a golf course and lake was put forward. I arranged for a rough sketch to be prepared and overall land use assessed to determine how many lots might be achieved from the site. In that process, Michael asked me to approach [then known as] Werribee Council about the likely support or otherwise for the broad concept proposed. I met with John Nicol, the then City Engineer, responsible for planning and development. I remember John's words after I had finished my presentation. "This is exactly what the west needs, somewhere for the business owners to live. This is excellent."
With that enthusiasm, Michael entered a contract of sale to secure the land. It's fair to say, that there were not a lot of bidders for the site. The perception of problems with salt and fill had depreciated the value in the eyes of the local developers. All they could see was a "first home buyer market." Michael could see much more… the Skeleton Creek aesthetic.
It was some time later that Michael returned to Melbourne, accompanied by an entourage of friends and investors and Chris Honey. We spent the next week taking people to the site, explaining how it might work, walking the site and thinking about how the site might integrate with the rest of Point Cook. At this point, the discussion about the golf course got serious. A number of designers were discussed. It's important to also understand the protocol around the professional golf course designer process. Designers want to have a quality course which can have a high profile and enhance their brand. Developers don't want multiple "branded" courses in close proximity as it degrades their advantage. So, the selection of a designer has to take into account what courses they already have in the region, what they can bring to the project in terms of cachet and market value, and what can be leveraged for marketing.
The decision was taken to appoint Greg Norman as the designer as he did not have a course in the region, could bring all of the market value that the project needed and was fascinated with the prospect of changing the landscape at Point Cook. I was asked to pick up Greg and his Designer, Bob Harrison, from Essendon and take them to Point Cook to the first press day. This was the first time that Greg and Bob had seen the site. The press was there in force. After a series of presentations and questions and answers, Greg asked to be taken over the site.
Once in the middle of the site, we stopped to walk around. What attracted Greg's eye was the salt bush and plants. The colours were deep green, purple and red. "Can we get these on the course?" he asked. "Absolutely", was my reply. We spent a few hours walking the site and discussing how the course might be set out, what were the implications for fill and top soil, how about water? These are the questions that can only be answered when a design is begun based on survey and geotechnical advice. The design process therefore had to be tempered until we had more information.
I set out getting the technical information and once available, we could start the process. With Greg (Bob Harrison) as the golf course designer, Chris Honey arrived to work on the project from our office for a few weeks. Bob Harrison came down from Sydney and we began the design process.
The base plan was put on the table, the original plan was reviewed and discarded. Yellow trace appeared and lines began to be appear highlighting the "must keep" elements. These included the copse of trees which is now the entry, the Skeleton Creek interface, the drainage lines required to meet the expectations of Melbourne Water and the "heritage items" which included the pump station blocks (which were concrete foundations) and the timber sluices. (After much discussion with Heritage Victoria, it was agreed that we could demolish these items after photographically recording them and maintaining an historic record of what the site was about).
As the design progressed, the course started to coalesce. The lake was still not resolved as the issues of filling and geotechnical conditions was still to be finalised. By this stage, we had cut channels through the lower areas of the salt pans to drain the area in preparation for survey. The drained areas revealed rock at shallow depth with the occasional dip in the profile. This encouraged me to confirm that islands are possible with special compaction processes.
With that information, Chris started to work on the detail of the urban design. The parameters were; a) there is a minimum surface area of lake required to meet flood management objectives; b) there is a minimum cross-sectional area of water way required to avoid any back up of water during a flood event.
The yellow trace came out and Chris went into his very intense state, drawing; overlay another sheet; draw some more, this time more strongly. Throw that away, more yellow trace, drawing, overlay more yellow trace, drawing with a thicker pen, another overlay, more drawings this time in a different colour. Question, "David, how would you build a bridge to the island?" "With box culverts, Chris." "Right, but that's going to look a bit industrial". "Yep, might need to look at alternatives, but a full span bridge will be very expensive". "Right."
It's around 7.30 pm. More yellow trace, this time the pen flows in a more fluid way. The pizza and beer are starting to get us all a bit freer. Bob has just about got the course sorted. We review where he's at. It looks OK, but we need more lots. A bit of animated discussion ensues about the relative priority of golf and housing. We come to a compromise and decide to call it quits at 8.30 pm.
Next day, 7.30 am. Back at the table. Chris looks a bit shattered, but also a bit elated. He has been thinking.
Out comes the yellow trace and the black felt tip. The lake and course intersect now at a few points, following the review last night. "Here's what we can do" says Chris. The pen moves over the yellow trace and the base plan. The edge of the lake starts to bend, and the first of the butterfly island shapes start to appear. Size is the issue - we need a minimum width to get house, road and services. The blocks need to be big to attract the price required. The waterway area is still critical. More trace, broad pen becomes finer as we put on dimensions. The islands appear in the right places, the land to the south gets narrower because the islands are the best result. We can get lots down each side of a road, but we need more land to make the islands work. The islands are where the money is. Let's buy the land to the south. That's the solution.
The plan evolves quickly now. The course is about set, the lake and islands are now the right size. What's the reason for the shapes Chris? A basic design principle is to provide "long and short views". He opened a small text called "A Pattern Language; C Alexander, S Ishikawa & M Silverstein".
This is what he was reading last night and a re-read clarified for Chris that vision for the islands and how the lake will be viewed from the lots, the course, the entry road and the Club House. The landscape is enhanced and the community enriched.
The eastern part of the lake is not big enough to get the butterfly to work, but the principle is the same. Short and long views to emphasise space and context.
The shapes are looking good. "Now about the bridges - box culverts you say? Hmmm …. how about we put panels on the fronts so that they look "bridge like"?" This time its sketching, a box or two, just enough to separate the island from the land and then separate the two halves of the island. We need to maintain the waterway area, so the dimensioning is checked and double checked.
"How to fix a face panel to the boxes?"
"We hang it off the deck we cast on top of the boxes - simple as" I say, wondering how exactly we can do that. But I have designed and built bridges before, so it's all doable.
The final touch is to dimension everything and then give it to the surveyors to prepare the plan, before the final approval. Chris heads back to Kuala Lumpur and then the UK. Bob is back in Sydney setting up the course design in detail, including the contouring to take advantage of the view lines created by the lake and the islands.
The layouts are complete, with lot dimensions, curve radius, existing trees and new contours. The view lines are checked and the plans tweaked. Everybody agrees that it works. Now to build what some believe to be impracticable.
The salt pans were created by pushing the topsoil into berms to hold the water. This topsoil is tested and found to be high quality, with very little salt content. Scrappers are set to work to strip the banks and stock pile for use on the golf course. The rest of the site is tested for salt content. Although high in some areas, it can all be managed by applying gypsum to the surface and allowing the rain to flush the salt through. The existing trees on the site are testament to the fact that landscape will not be affected by salt levels.
The land to the south was purchased and part used for filling for the project, as well as enhancing the lake outcomes and drainage control. Nearly 1 million cubic metres of filling was moved across the site during construction.
All filling is compacted under the supervision of a geotechnical engineer and tested every 600 mm of fill. The housing will be constructed on solid foundations. As with the road network. Some Council engineers were sceptical at first and insisted on additional strength testing on all sites. An expectation of salt contamination was unfounded and after much debate, there was agreement that the project was viable. From then on, the community began to see the potential. Deposits for house lots were opened and within 24 hours the first stage was gone.
The lake was originally constructed in two parts to ensure that the water levels would be maintained and the drainage controls achieved. This also enabled construction of the remaining islands to be undertaken.
The project required considerable investment and vision. Michael Tan's preparedness to think differently to the local developers and see the potential is a testament to his courage and conviction. Being able to share that vision and bring it to reality has been one of the highlights of my career.
I hope this helps to explain how it came to be.
And 22 years later, it became a reality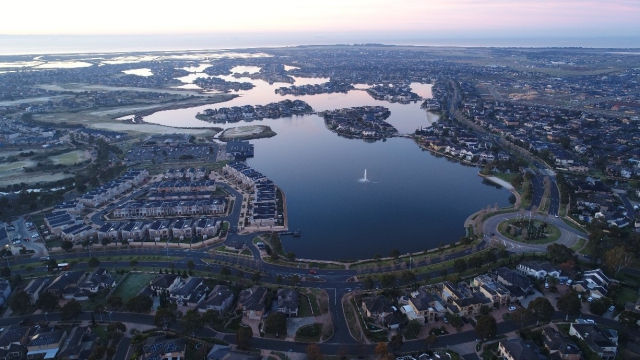 Sanctuary Lakes 2018 photo by Terry
Almost every house, garage and shed in Sanctuary Lakes has been a comfortable shelter to numerous species of Native Australian Spiders, especially now, as the weather begins to cool towards winter and the spiders seek warmth indoors.
Although Spiders are a very positive essential to nature's paradigm, our little housemates tend to incite more fear than favour and even provoking phobias for some. It's true that here in Sanctuary Lakes we do have some venomous spiders, but the Australian spider's reputation is bigger than its bite: The last death in April 2016 was the country's first recorded spider-caused death since 1981. From personal experience, I can confirm that spiders can give you a nip, but in most cases it's less troublesome than a bee sting.
All that said, it is still worthwhile taking a close look at four spiders who are probably living or entering your property at this moment. And also discover how these eight-legged arthropods were given their legendry name Arachnid.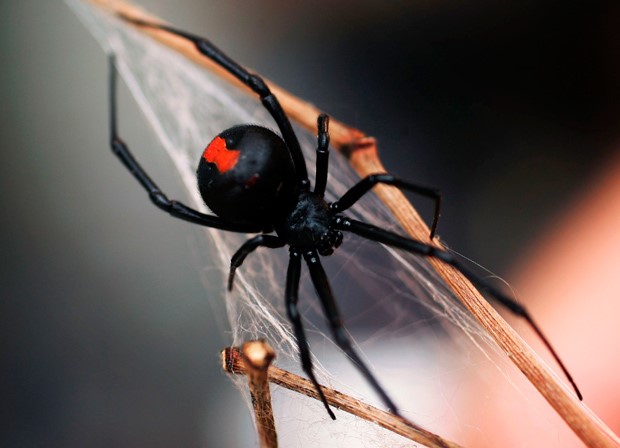 Redback Spider (Latrodectus hasseltii)
The Redback is the most dangerous spider residing in Sanctuary Lakes. They enjoy habitating during winter in dark, dry, sheltered places such as sheds, garages, cellars, even mailboxes.
The female redback is immediately recognisable by the prominent long red stripe on her back, for which they are so aptly named. Females of the species tend to be a lot larger than the males, with a body length of about 1 cm compared to 3–4 mm for males who are light brown with white markings and lack the distinctive red stripe.
One unique feature of redbacks' mating is cannibalism. During mating, not only does the female eat the male, but the male actually assists her in this process by flipping his body towards her so that he is closer to her mouthparts. Because the cannibalistic process is so slow, mating continues until the male succumbs to his injuries.
The Redback is mainly nocturnal; the female remains concealed during the day, and spins her web during the night, usually remaining in the same location for most of her adult life, normally between two to three years.
Since Redback Spiders don't stray from their webs often, it is unlikely that a human will be bitten unless they come into direct contact with the web or female spider. The bite of the Redback Spider can be highly venomous. It is characterised by intense localised pain around the bite site. Other common symptoms are, sweating, muscular weakness, loss of coordination, nausea, vomiting and in serious cases convulsion. Apply an ice pack or a cold compress to lessen the pain. If the casualty is a young child, a pregnant woman or if a collapse occurs and pain is severe, transport the casualty to emergency medical treatment.
Antivenom is always available.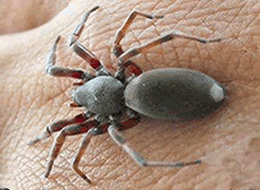 White-tailed Spider Lampona cylindrata
Named because of the distinctive whitish tips at the end of their abdomen. The White-tail is medium size spider with a body size of up to 18 mm, with a leg-span of 28 mm. White-tailed Spider had a venomous reputation, but in truth their bite may cause a small red or discoloured bump, similar to an insect bite, that burns or itches. An ice pack should relieve any discomfort. If the pain continues after 24 hours seek medical help.
White-tail spiders are vagrant hunters that usually roam at night. Instead of spinning webs and eating insects, they prefer to feast on other spiders. In cold weather they will enter homes seeking tight spaces where they can hide. Our little housemates are commonly found hibernating in bedding, clothing and towels that are left on the floor.
White-tails make temporary silk retreats and spin disc-shaped egg sacs, each containing up to 90 eggs. Females live between one to two years.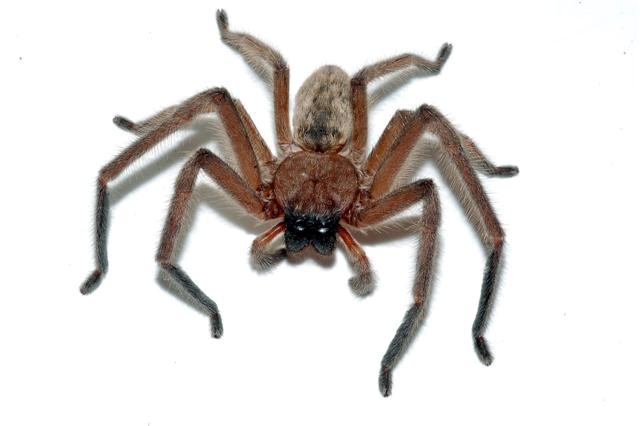 Huntsman Spider Holconia immanis
The Huntsman is the largest of our spiders with a diameter of up to 45mm and one most commonly found in our houses, where it hunts at night on walls and ceilings. It also occasionally enters the cabins of vehicles, causing much alarm as its large hairy legs appear from under the visor or runs rapidly, often in a sideways direction, across the dashboard.
Huntsman spiders can be an ally in the house; they help with pest-control by eating smaller insects. and other invertebrates. Their egg sac is flat, oval and constructed of white papery silk. It is most commonly deposited in crevices within ceilings or outside, beneath the bark of trees. The Huntsman's lifespan is about two years.
Despite its intimidating appearance this is a timid spider and bites are infrequent. Symptoms are minor, including local pain and swelling. Again, icepack should suffice in reducing any minor pain or swelling.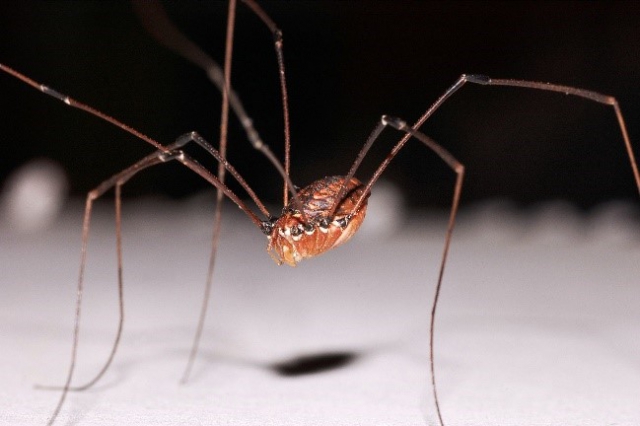 Daddy Long Legs Pholicus Phalangioides
Almost every house or shed in Sanctuary Lakes has been home to the messy, tangled web of the Daddy-long-legs. Although we remove their webs regularly with the broom, somehow, they always manage to find their way back in again. They're hard to dislike, with their spindly and delicate legs, fragile peanut shaped body and fangs, which are far too tiny to pierce human skin. Yet despite their apparent harmlessness, Long-legs have little trouble catching, wrapping and killing much larger spiders.
Long-legs hatch from eggs, and when hatched, look like small adults who shed their skin as they grow. It takes about a year for the baby spiders to develop from egg to adult. Male Daddy-long-legs typically live for about one year and die after mating. Females can live for three years.
Humans have always lived with spiders and they are symbolic characters in many of our myths and legends. For example, the word Arachnid, for spider and Arachnophobia, fear of spiders, comes from Greek mythology story of Arachne.
Arachne, was a beautiful woman who had a great talent in weaving. Everyone was amazed at her work and one day, Arachne boosted that she had a greater talent than goddess Athena herself. This was an offense towards the gods, which was a very serious and even deadly sin for the ancient Greeks. As punishment Athena transformed her into a spider to spend the rest of her life weaving webs.
Now, we are all living our lives reading web sites!
Spider venom contains a cocktail of chemicals, some of which can be harmful, but humans are not really the intended victims. Spider venom is designed for small prey and delivered in minute quantities, while often fatal to tiny creatures, it normally can be handled easily by bigger organisms.
After a short holiday, spent wandering around the magnificent palm infested hills of far North Queensland, I was strolling along the Sanctuary Lakes Northern Boulevard. I stopped to admire the Signature Boulevard entrance's recent planting of an impressive giant 100-year-old Phoenix Palm, and I also noticed inside the gate a hint of Hollywood; with the palms that line Beverly Hills - the Mexican Fan Palm (Washingtonia robusta) in our very own area. Wandering on towards Breezewater and having a "nosey' at the gardens along the way, I became conscious of just how many other wonderful palm trees are thriving in the gardens within Sanctuary Lakes.
Palms represent an ancient part of the world's flora and, even before flowering plants had emerged, they dominated the pre-historic forests. While other plants started to evolve, palms continued to propagate from generation to generation, with miniscule change over periods of tens of millions of years. Apart from the intrinsic beauty of their form and foliage, the antiquity of these plants commands our attention.
Palms in the wild tend to inhabit moist rainforest-type habitats where their seedlings are able to establish under low light conditions but will eventually grow tall enough to emerge alongside the tree canopy. They can therefore grow very well under the Sanctuary Lakes garden's conditions, as they are of a reasonably deep and moisture-retentive soil.
By far the most popular native palm growing in the gardens of Sanctuary Lakes is the Kentia Palm.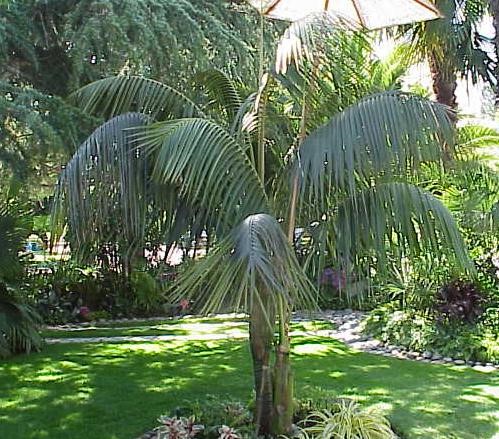 The Kentia is one of the most beautiful palms and is suitable for growing either indoors or outdoors. An Australian native palm, the Kentia has also been grown in Europe since the 1850s. The Palm Courts, which became popular in Edwardian hotels like those of The Ritz and Carlton Hotel in London or the Plaza Hotel in New York, all featured Kentia palms. It was also the symbolic palm for the Victorian crowd-pleasing Palm Court Orchestras.
Another reason for their popularity is attributable to Queen Victoria. The Queen not only cultivated them in all of her palaces, but left instructions for Kentia palms to be placed around her coffin while she lay in state. The association with royalty and the fact that the Kentia were quite expensive to buy, gave those Victorians who could furnish their homes with them, a certain prestige.
The Kentia palm has a slender trunk with slightly raised annular trunk rings and a graceful crown of dark-green featherlike, drooping fronds. These leaves can grow up to 3 meters long on thornless petioles. While the leaves produce an airy and poised look, the finger-shaped leaflets bend downward in a fashionable two-tone look. The trunk alone can grow 5-10m, but in an open position (such as in a garden) rarely grows more than 8m tall. The Kentia flowers are small and fleshy and are borne on long arching spikes, which grow up under the fronds and mature as small red fruit. Kentias do have male and female flowers but they are both on the same flower cluster, so a single tree will produce fertile seeds.
The Cabbage or Fan Palms are well represented in the gardens of Sanctuary Lakes. The palm is named after the 17th century Scottish botanist and plant collector, Baron Livingstone. The common name comes from nutritious bud growing on the tip of the plant, known as the 'cabbage', which was eaten either uncooked or roasted by First Nations peoples and early European settlers; but unfortunately picking the fruit kills the tree, as it cannot re-grow from another point.
The Cabbage Fan Palm is a very slow growing single trucked palm eventually growing after 50 to 70 years up to 20-30 m. Botanists have estimated that it takes over some 100 years for a Cabbage Palm to reach its full reproductive age. The trunk is slender and grey, with fissures and rings. The leaves are a typical fan shape, to about 4m long, partially divided into numerous segments, and the stalks are provided with sharp spikes on the edges; but the points of the leaves droop in mature plants. In spring and early summer, the cabbage tree palm bears flower spikes with sprigs of creamy white flowers. The fruit is red, turning black, up to about 1.5 cm in diameter. The fruits take a long time to ripen, and a long time to germinate. Being very tolerant of wind and salt, and enjoying damp semi sheltered areas, the Cabbage Palms grow well in our Sanctuary Lakes gardens.
The Cabbage Fan Palm was an important First Nations persons food supplier. New growth of the Palm could be cooked or eaten raw and the heart of the trunk could be cooked as a medicine to ease a sore throat. Leaves of the cabbage-tree palm were used for shelter and fibres for string, rope and fishing lines.
The early European settlers also made use of the Cabbage Fan's leaves. Seeking protection from the sun, they used fibre from the palm to create the 'cabbage tree hat', a distinctive form of headwear during the colonial era. No self-respecting Bushranger would be seen in public, without his 'cabbage tree hat'. Even the most notorious bloodthirsty bush ranger Dan 'Mad Dog' Morgan was always portrayed with his fashionable cabbage tree hat.
March and early autumn are the perfect time to put on the flippers and goggles and visit our next door, under water neighbours. The Point Cook Marine Sanctuary is easy to get to. Either walk directly over the wetland or drive to the Point Cook Homestead and take a short stroll across the sand dune. The Marine Sanctuary is a protected refuge for all the sea's flora and fauna. The quiet Sanctuary's narrow sandy beach separates the land from the sea. Just off the coast a series of low basalt reefs rise from the sea floor; the remains of volcanic activity and lava flowing across the Western plains, thousands of years ago.
The combination of reef rock, sand and mud supports a fascinating range of marine life. The moment you dip below the water, an astonishing new landscape appears ready for exploration. The reef rock's range of sea life, includes carpets of anemones, tubeworms, filamentous algae, with Sea Urchins bursting out of crevices and even in the darker corners, plentiful sponges grow.
Being a protected refuge, no fishing is allowed in the park and shoals of favourite fish such as Snapper, Whiting and Flathead are often seen. Small sharks and skates patrol the sea grass beds. In the late summer swarms of jellyfish pulsate over the reef cleaning the water of microscopic plants from this nutrient rich environment.
It would take a small book to describe this wonderfully life-packed marine sanctuary, so I thought I should simply detail some of the local native species that are relatively common around the park.
Firstly, a personal favourite ray, the harmless and approachable Fiddler Ray or Banjo Ray.
Eastern Fiddler Ray (Trygonorrhina fasciata)
The Fiddler or Banjo Ray are regulars in the park. Their ornate markings camouflage them perfectly with the ripples in the sand and the reflections that the sun produces as it passes through the water over the motionless Fiddler, lying partially covered on the sea floor. Fiddler Rays possess physical characteristics of both sharks and skates. Their rounded body is formed by the fusion of the head and the pectoral fins, the snout is translucent, followed by a long tail which exhibits two dorsal fins. They are opportunistic bottom feeders, consuming a variety of shelled invertebrates, fish, crabs and worms which are crushed by their numerous short blunt teeth. The Fiddler Ray grows to a maximum length of 1.4 metres. The egg capsules are golden in colour, containing three embryos each. It gives birth to litters of four to six young per annual breeding cycle.
Golf Ball Sponge (Tethya) The Marine Park lies only a couple of decent par fives from SL Golf Course's 16th tee. One of the first views for a snorkeler are these small 5cm sponges with shallow circular depressions, that can, remarkably, resemble a golf ball. It is one of the most common and abundant sponges on the Park's intertidal and shallow reefs.
Sponges in the genus Tethya often exhibit budding propagules, a form of asexual reproduction whereby the parent sponge produces a stalk of spicules at its surface, terminating in a bud that detaches and floats away to become a separate individual. Golf Ball Sponge is the only member of the Tethya family group to be found in Victorian waters.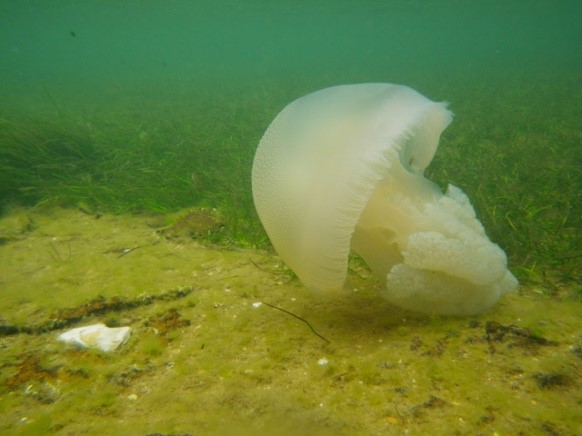 Blubber Jelly Fish (Catostylus mosaicus)
In the late summer the Blubber Jelly Fish becomes one of the most common species in the Marine Sanctuary. The Blubber's large 30–45 cm bell is a creamy white to blue colour. There is no obvious mouth on the underside, but there are small openings on each arm, through which food is passed to the stomach. The tentacles also have stinging cells that can capture tiny crustaceans and other plankton. For Snorkelers, the Blubber's stings do not cause serious injury, only redness, a minor sting and itchy feeling. The Blubber Jelly Fish is edible and a very popular food in China, Korea and South East Asia.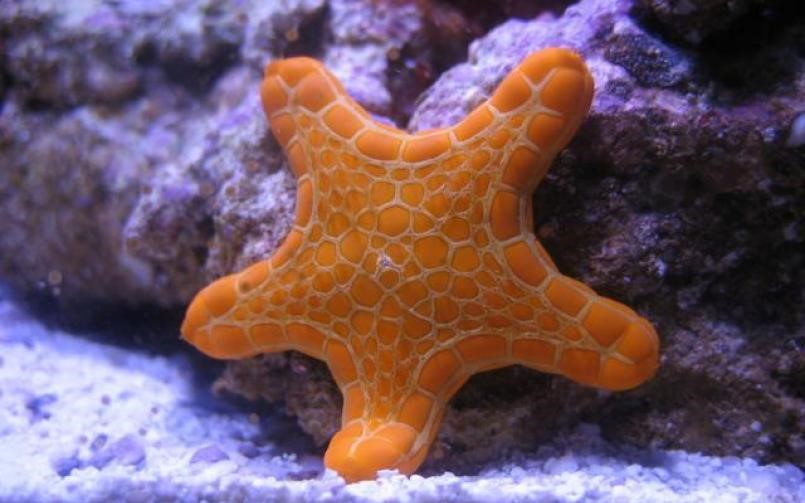 Biscuit Sea Star (Tosia australia) Snorkelling along the Marine Sanctuary, it is impossible not to be taken by the bright coloured Biscuit Starfish. It is a beautiful addition to the reef as it provides an immediate influx of colour, character, and activity. The Biscuit Starfish is a glowing bright red/orange starfish with distinctive interlocking polygonal shapes across its back, usually growing to an average of 8 centimetres in diameter. Biscuit Starfish are native to the shores of Victoria and scavenge the sea floor for meaty foods, including sponges, sea squirts, bryozoans and some algae.
Southern Blenny (Parablennius)
Growing to 8-10cm in length, the Southern Blenny is the Marine Sanctuary's clown. Even their features have a comic effect with their large head, blunt snout with its steep profile, and an 'over the top' large frilled tentacle above each puzzling eye. Blennies can be seen poking their heads from holes and crevices, or even from discarded cans and bottles. Their eyes seemingly revolving in amusing surprise at seeing a large snorkeler approaching.
There are subtle differences between the Blenny sexes, with males having about six darker saddle-like markings above the midline of the body. Females have their saddles, broken up into a checkerboard pattern. Their breeding cycles are rapid, up to five in a year with the female often laying their eggs in empty mollusc shells. The eggs take about three weeks to hatch. During this time the males are sometimes seen guarding and fanning the eggs.
Henrietta wreckage on Point Cook Reef Finally, no Marine Sanctuary or Snorkeler's Paradise can be without a shipwreck and our Marine Sanctuary not only has one but two - the Henrietta and the Diane.
The Diane was a 40-foot wooden cutter, a Bay and coastal trader with runs between Launceston, Western Port, Geelong, Melbourne and Port Fairy. She sprang a leak on Saturday 23 December 1877, off Point Cook. For the safety of those on board she was run aground on the Point Cook Reef. The cutter was laden with firewood and was owned by R. Owens of Williamstown. A small quantity of wreckage still remains on the reef's floor.
Our second ship wreck the Henrietta, was a 114 foot 'Bluenose' or Nova Scotia schooner, built in 1915 for Grand Banks fishery off Cape Cod, Newfoundland, had fished for 20 years, from its home port Truro. Allegedly used in the film 'Captains Courageous', but the details below from the Victorian Heritage data base, could be the outline for a movie of great characters and dramatic action:
"The Henrietta left Geelong before dawn on the 29th September 1940, in a SW breeze that soon strengthened. When well under way crew found no chart of Bay was on board (previously removed by a pilot for updating and not returned). Ran aground, with tide falling, on end of reef that runs out from Point Cook for more than 1 mile, buoy marking end of reef not seen in bad weather conditions. Schooner was seen to strike and Ports & Harbors tug Victory arrived to pull schooner into deeper water - attempt unsuccessful. Crew decided to stay on board overnight to await another salvage effort at flood tide. Huge seas during night swept away dories. Emergency flares not seen. Crew and ship's cat finally rescued the next day at 12 30 pm by Victory, but kittens drowned.
Bought by Sawyer, an adventurous American master mariner, and his wife (an Australian) in 1935, they had brought Henrietta to Melbourne in 1938 while on a world cruise but had been forced to cancel part of voyage because of outbreak of war. While on a trip to the Great Barrier Reef, the Henrietta recorded 10 previously uncharted navigable passes in the reef. Sawyer had enlisted in July 1940 in RAAF. Schooner had been lying at Geelong for some months and was being taken to Williamstown for overhaul by the airmen on weekend leave. Sawyer killed in air crash on Blue Mountains a few months later - the same weekend that another storm smashed up some of Henrietta's remains. His ashes were scattered by crew members Hilder and Charlton over the scene of wreck."
Two Shipwrecks and the amazing variety of marine life, you simply have to pull your flippers and snorkel out of the cupboard and pop next door for a peep at the action under the waves at our Marine Sanctuary.