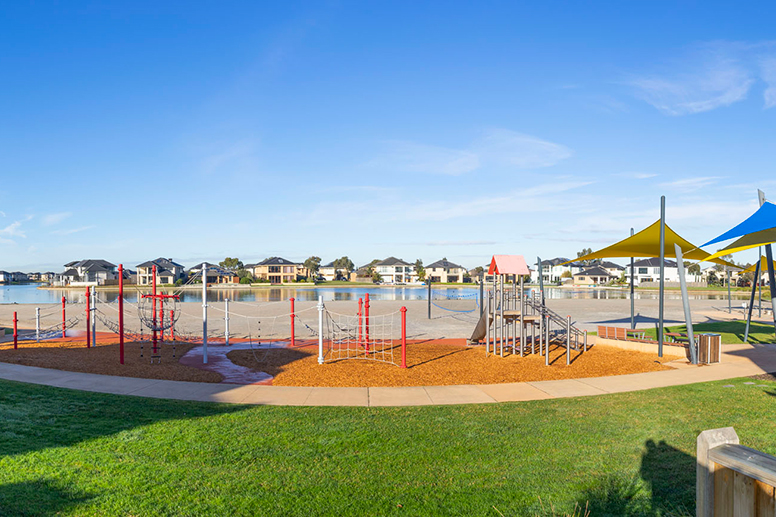 Parks and Landscapes
There is approximately 16 hectares of public open space and in excess of 5,000 street trees within Sanctuary Lakes Resort. The many parks, gardens and street trees are maintained and irrigated by SLRS Resort Maintenance staff, with assistance from staff from Mambourin. Mambourin promotes independent living by offering employment to adults with a disability. SLRS are pleased to be able to support and work with Mambourin and their staff.
All vegetation planted and maintained by SLRS are as per The Master Plan guidelines which were developed by the developers' landscape architects.
The signature plants along the boulevard are:
Angophora costata (Smooth Barked Apple)
Populus simonii (Simon Poplar)
Rosa x Noaschnee (Flower carpet roses)
The landscape quality of the boulevards, parks and gardens are well above what would be expected in normal residential streets within Wyndham City Council (WCC) and include:
architectural trees of a largely deciduous nature under planted by hardy flowering bushes in beds watered by drip systems
nature strips, reserves and median strips that are mown and weeded regularly
recycled water used for irrigation to maintain a healthy appearance all year round
In recognition of SLRS undertaking this high standard of maintenance, WCC provides each lot owner within Sanctuary Lakes Resort with a rebate on their council rates for public works and services that are typically the responsibility of WCC but are done by SLRS as per the WCC and SLRS Maintenance Contract.
All playground equipment is owned and maintained by Wyndham City Council (WCC).
If you notice any parks, gardens or playground equipment requiring maintenance, please email This email address is being protected from spambots. You need JavaScript enabled to view it..
Dogs on Leads
There are no areas within Sanctuary Lakes where dogs are allowed off leads. Dogs must be on leads at all times when in the streets and parks within Sanctuary Lakes Resort.
History of the Landscape
Sanctuary Lakes Resort is located on the site of the former Cheetham Salt Works where a large scale industrial production facility supplied salt to Melbourne and Victoria for nearly 100 years. The water management regimes of the salt works caused them to become an important habitat for a wide variety of birds, including rare migratory birds. The facility was closed in the late 1980s, leaving the site significantly altered from its natural state and making redevelopment options limited. As a result, the development of Sanctuary Lakes had to address a number of environmental and engineering challenges.
The eastern side of the site containing the salt pans and the remnants of tramways and pumping station buildings within the City of Hobsons Bay became an extension of the Point Cook Regional Park, now known as the 'Cheetham Wetlands' and is managed by Parks Victoria. The western side, situated within the City of Wyndham, was cleared as Sanctuary Lakes Resort.