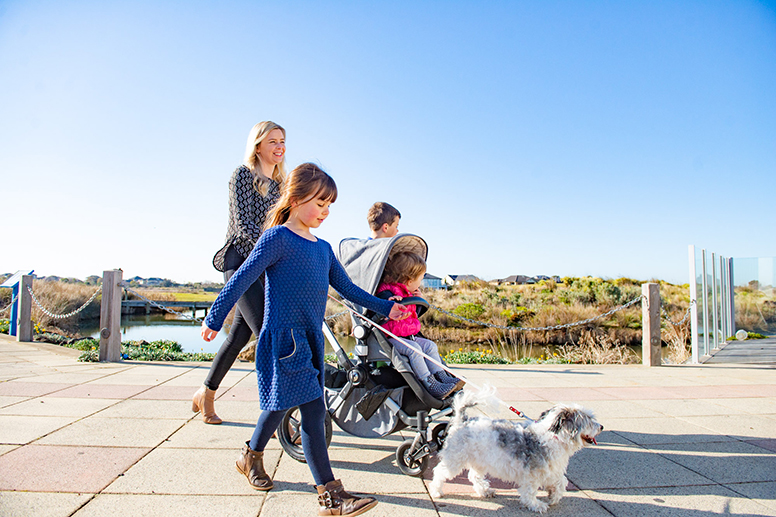 Contact
Phone: (03) 9394 9477
Email: This email address is being protected from spambots. You need JavaScript enabled to view it.
Address: 101 Broadbeach Circuit, Sanctuary Lakes VIC 3030
About Security at Sanctuary Lakes Resort
Security is provided for Sanctuary Lakes Resort residents 24 hours a day, every day of the year in a coordinated three-part system that consists of:
Mobile road patrols
Residential back-to-base alarm system monitoring
Monitoring by a specialist electronic monitoring system
The Security Office is located on the corner of Sanctuary Lakes North Boulevard and Broadbeach Circuit (at the entry to the Lakeside Central gated community). The Resort Service Officers (RSOs) can be contact by phone 24 hours a day.
If the Security Office is unattended, voicemail is available for you to leave a message. The call may also be transferred to Stay Safe Security if the RSO is involved with another matter. When calling, it is important to provide the RSO or Stay Safe with your details – your name, contact phone number, property address, the problem you are calling about and any other information relevant to the issue.
If you witness a crime or feel your safety or the safety of others is at risk, please contact the police on Triple Zero (000) prior to calling Security. Resort Service Offices are unarmed and instructed to observe and report matters to Victoria Police. RSO's are in regular contact with Victoria Police. If you observe any unusual of suspicious behaviour please contact Security. RSO's are instructed they are not to be involved in any crowd control including incidences of houses let on a short term rental basis.
Alarm System
The security service provided for residents is supported by back-to-base monitoring of the alarm system. As per the OC rules, a security system must be installed in every house within Sanctuary Lakes Resort. These alarm systems must conform to the minimum standards set to ensure we can offer back-to-base monitoring. To obtain a current list of the approved alarm monitoring systems and to assist with advice on pre-wiring and installation of alarm systems, please email This email address is being protected from spambots. You need JavaScript enabled to view it. or call (03) 9394 9472.
To ensure your alarm is monitored you are required to commission the alarm which can be performed by filling out the Alarm Commissioning Request form and email to This email address is being protected from spambots. You need JavaScript enabled to view it. or call (03) 9394 9472.
As with all electronic equipment, your home security system requires maintenance including your alarm backup battery. If your system has a fault that needs attention, please complete the Alarm Service Request form and email to This email address is being protected from spambots. You need JavaScript enabled to view it. or call (03) 9394 9472.
NBN READY ALARM SYSTEM NOW AVAILABLE
We are pleased to advise the new NBN Ready Alarm systems are available for installation.
As you may be aware, the NBN Rollout has commenced at Sanctuary Lakes Resort.
The NBN Rollout will affect your back-to-base monitoring system, and therefore we strongly recommend that you install a PermaConn unit before connecting to NBN.
SLR Security is currently installing two Wireless Alarm Monitoring devices:
PM24 -Single Sim: Alarm communicator using a 3G/4G Path (Mobile Data Network) eliminating the need for a fixed phone line. The unit is installed in the alarm panel by our qualified technician and connected to our monitoring centre. No more call charges or future phone line rental fees will be incurred.

The cost of the above device is $170 (inc GST) which includes 30 to 45 minutes to install, connect and test – with no ongoing charges after installation.

PM45 – Dual Sim: Alarm communicator with dual Sim 3G/4G Path. In addition to the PM24 features this Alarm Communicator has the ability to switch between mobile networks should one fail. There is also an app available (at your cost) which enables the user to arm and disarm and check the status of the alarm system remotely.

The cost of the above device is $350 (inc GST) which includes 1.5 to 2 hours to install, connect and test – with no ongoing charges after installation.
Note - not all alarm systems will be compliant with the PM45.
The units are independent from any communication services like NBN, internet and landlines. There are no external telephone lines, therefore, the alarm will continue to operate during power outages via the alarm backup battery. The PM24 will report to the control room on a daily basis and the PM45 will report on an hourly basis.
If you would like to schedule installation please complete this form: NBN Ready Alarm System Request Form.
More FAQ's can be found here: NBN Ready Alarm System FAQs.

Finally, please note that some properties have advised when having NBN connected before installing a PermaConn unit, or before ensuring the Alarm Panel is isolated from the NBN service they have suffered Dialled Failure. This can be a very expensive problem to fix, approaching $1,000 depending on the panel type & model. Some older Panels cannot be repaired at all, and have to be replaced. As a minimum precaution the Alarm Panel Phone cable should be disconnected from the Phone Jack before installing NBN. This work can only be undertaken by an SLR Technician if the Resident wants the monitoring fee to be paid by SLRS.
Forms
NBN Ready Alarm System Request - for use when requesting an NBN compatible security alarm.
Alarm Commissioning Request – for use when establishing an alarm system in a house.
Home Security Authority - for use when your personal or contact details may have changed.
Alarm System Power Down Request Fault - for use when a temporary disconnection is requested due to a persistent fault that requires a maintenance call.
Alarm System Power Down Request Vacating - for use when vacating the house.
Alarm Service Request – for use when requesting maintenance to your alarm system.
Key Holding Authority - A key to access your property can be left with SLR Security. The key will only be used in accordance with the conditions shown on the Key Holding Authority Form. The service is free of charge.
Holiday Notification - Residents may wish to advise Security when their house will be vacant. The service is free of charge.
CRIME STATISTICS
Having SLR Security on site is an extremely valuable resource for all residents, but have you ever wondered how valuable?
According to the latest figures from the Crime Statistics Agency, statistics show that the crime level in Sanctuary Lakes is significantly lower than that of Point Cook, and the wider Wyndham municipality. The crime rate in Sanctuary Lakes is 71% less than Point Cook, and 77% less than throughout Wyndham.
Below is a chart showing the top 4 incident categories in Wyndham, as well as the number of reported incidents.
The top 4 categories are as follows:
* Theft
* Burglary / Break and Enter
* Property Damage
* Assault and Related Offences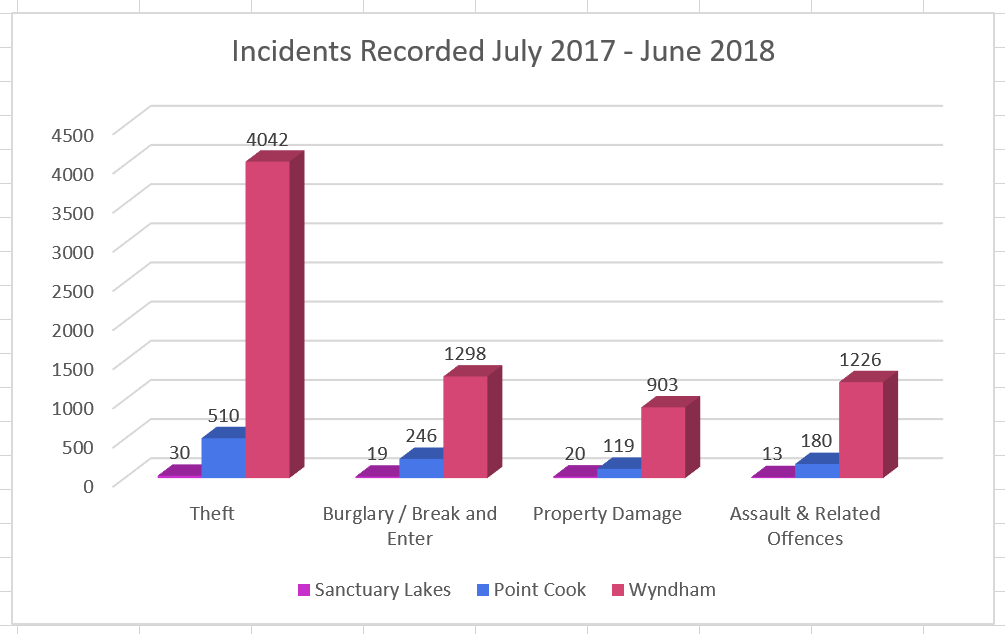 As you can see having security onsite doesn't mean no crime, but it definitely does mean low crime. Per every 1000 people 6.2 people in Sanctuary Lakes are affected by crime per annum, compared to 21 people in Point Cook and 28 people in Wyndham per annum.
Keeping our resort safe is a team effort and residents are reminded to lock their homes as well as have compliant alarm systems. Lock vehicles and keep valuables hidden from view and finally, if you see something suspicious or feel that something isn't quite right - report it.
Security can be contacted 24/7 on 9394 9471, but if you believe a crime is in progress please call 000 first.