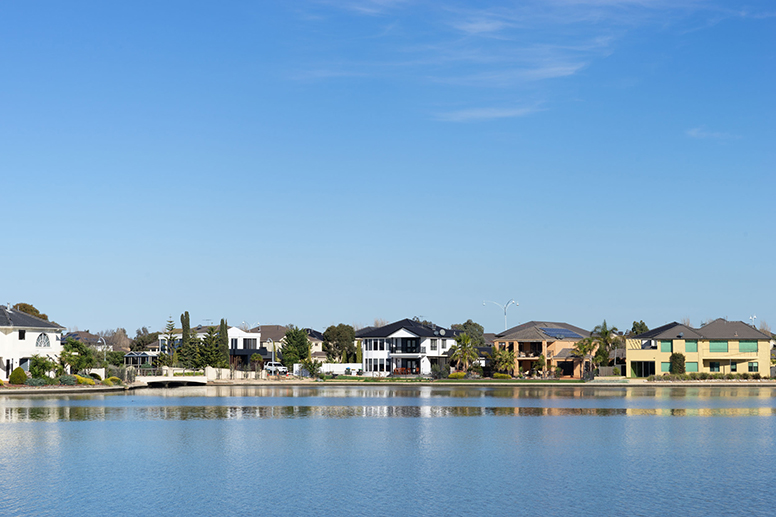 To contact the committee of your owners corporation (OC), you need to know the identity of your OC.
Your property title which is included in the documents you received when you purchased your land or house, shows the Plan of Subdivision (PS) in the format of six digits plus one letter. Within that PS, there is an OC number which is generally in the range of one to six. Your property details also appear on your annual owners corporation fee notice. The table below shows the property details that enable you to identify your OC. To See which OC your property falls under please click here to view the Sanctuary Lakes map.
Not all OCs have a functioning committee. To form a committee or to nominate yourself to be an Authorised Representative outside of an Annual General Meeting a Special General Meeting (SGM) must be called. A lot owner can request the Manager (Sanctuary Lakes Resort Services) to call a SGM if the lot owner/s have petitioned and have the support of 25% of lot owners, to call the meeting for the purpose of electing a committee and/or electing an Authorised Representative. As outlined in the Owners Corporation Act 2006.
Each of the OCs in the table below shows the OC committee chair to whom enquiries concerning OC matters should be sent for the attention of the committee. An email sent to the email address shown will go to each committee member. Administrative matters concerned with levies and related matters would normally go to the OC Manager at This email address is being protected from spambots. You need JavaScript enabled to view it..
Where there is not a functioning committee or the matter is best handled by the OC Manager, you will receive a response from the OC Manager for your OC.
**Note Super OC comprises mutiple stages: Stage 11, 32, 33, 36, 36c, 37, 40, 41, 43, 45, 46, 47, 48, 80 and 88.
Stage
Owners
Corporation
Plan of
Subdivision
Committee Chairperson
Authorised Representative
Email address
Stage 01 St Andrews Park
OC#1
401006D
John Anderson
John Anderson

This email address is being protected from spambots. You need JavaScript enabled to view it.

Stage 01 St Andrews Park
OC#2
401006D
No Active Committee
No Elected Rep

This email address is being protected from spambots. You need JavaScript enabled to view it.

Stage 02 St Andrews Precinct
OC#1
401008Y
No Active Committee
No Elected Rep

This email address is being protected from spambots. You need JavaScript enabled to view it.

Stage 02a St Andrews Precinct
OC#1
404770W
No Active Committee
No Elected Rep

This email address is being protected from spambots. You need JavaScript enabled to view it.

Stage 02a St Andrews Precinct
OC#2
404770W
No Active Committee
No Elected Rep

This email address is being protected from spambots. You need JavaScript enabled to view it.

Stage 03 Sandpiper Island
OC#1
403708H
Paul Von Harder
Paul Von Harder

This email address is being protected from spambots. You need JavaScript enabled to view it.

Stage 03 Castaway
OC#2
403708H
David Roberts
David Roberts

This email address is being protected from spambots. You need JavaScript enabled to view it.

Stage 03 Beachcomber
OC#3
403708H
Tom Parkinson
Tom Parkinson

This email address is being protected from spambots. You need JavaScript enabled to view it.

Stage 04 Medallion
OC#1
401009W
Trevor Page
Trevor Page

This email address is being protected from spambots. You need JavaScript enabled to view it.

Stage 04 Medallion
OC#2
401009W
Abbe Holmes
Abbe Holmes

This email address is being protected from spambots. You need JavaScript enabled to view it.

Lot M Sandlewood Apartments
OC#1
506874Q
TBA
Denise Respondek

This email address is being protected from spambots. You need JavaScript enabled to view it.

Stage 05 Swingers Green
OC#1
433003E
Sandra Haslam-Hillier
Rob Wallace

This email address is being protected from spambots. You need JavaScript enabled to view it.

Stage 06 Heron Island
OC#1
412931D
No Active Committee
No Elected Rep

This email address is being protected from spambots. You need JavaScript enabled to view it.

Stage 07 Grand Canal
OC#1
417942V
Christine Perri
Christine Perri

This email address is being protected from spambots. You need JavaScript enabled to view it.

Stage 07 Grand Canal
OC#2
417942V
No Active Committee
No Elected Rep

This email address is being protected from spambots. You need JavaScript enabled to view it.

Stage 07a Grand Canal
OC#1
417931B
No Active Committee
No Elected Rep

This email address is being protected from spambots. You need JavaScript enabled to view it.

Stage 07C South Shore Gdns
OC#1
511024M
No Active Committee
No Elected Rep

This email address is being protected from spambots. You need JavaScript enabled to view it.

Stage 08 Pinnacle
OC#1
417943T
Fiona Newman
Michael Szulc

This email address is being protected from spambots. You need JavaScript enabled to view it.

Stage 08 Pinnacle
OC#2
417943T
Michael Szulc
Fiona Newman

This email address is being protected from spambots. You need JavaScript enabled to view it.

Stage 09 Lakeview
OC#1
416998W
Tony Armeri
Tony Armeri

This email address is being protected from spambots. You need JavaScript enabled to view it.

Stage 10 Pelican Island
OC#1
423642Y
Alan Tidbury
Alan Tidbury

This email address is being protected from spambots. You need JavaScript enabled to view it.

Stage 10 Pelican Island
OC#2
423642Y
No Active Committee
No Elected Rep

This email address is being protected from spambots. You need JavaScript enabled to view it.

Stage 17 The Ridge Precinct
OC#1
437326G
TBA
Julie Jones

This email address is being protected from spambots. You need JavaScript enabled to view it.

Stage 18 Centrestage
OC#1
431536C
No Active Committee
No Elected Rep

This email address is being protected from spambots. You need JavaScript enabled to view it.

Stage 21 Gleneagles
OC#1
430410G
Ed Boucaut
Jeanette Ward

This email address is being protected from spambots. You need JavaScript enabled to view it.

Stage 21 Aria
OC#2
430410G
Darren Webb
Darren Webb

This email address is being protected from spambots. You need JavaScript enabled to view it.

Lot S Eagle Court
OC#1
528573G
Alex Sandles
Alex Sandles

This email address is being protected from spambots. You need JavaScript enabled to view it.

Stage 23 Riverwalk
OC#1
508305W
TBA
Clint Masters

This email address is being protected from spambots. You need JavaScript enabled to view it.

Stage 25A Central Park
OC#1
501104V
Gavin Lavers
Mark Scott

This email address is being protected from spambots. You need JavaScript enabled to view it.

Stage 25B Central Park
OC#1
502244X
Todd Clarkson
Don Carroll

This email address is being protected from spambots. You need JavaScript enabled to view it.

Stage 25C Central Park
OC#1
508291F
No Active Committee
No Elected Rep

This email address is being protected from spambots. You need JavaScript enabled to view it.

Stage 25D Central Park
OC#1
506337T
No Active Committee
No Elected Rep

This email address is being protected from spambots. You need JavaScript enabled to view it.

Stage 28 Signature
OC#1
511693Q
Adam Rowland
Adrian Dent

This email address is being protected from spambots. You need JavaScript enabled to view it.

Stage 31 Jardin
OC#1
520557X
Bernie Brauer
Bernie Brauer

This email address is being protected from spambots. You need JavaScript enabled to view it.

Stage 33 Kingfisher Island
OC#2
511700W
Surjeet Dhanji
Surjeet Dhanji

This email address is being protected from spambots. You need JavaScript enabled to view it.

Stage 36 Shearwater Island
OC#3
511700W
Geoffrey Buck
Geoffrey Buck

This email address is being protected from spambots. You need JavaScript enabled to view it.

Stage 32B Regatta Beach East
OC#4
511700W
No Active Committee
No Elected Rep

This email address is being protected from spambots. You need JavaScript enabled to view it.

Stage 32B Regatta Beach West
OC#5
511700W
No Active Committee
No Elected Rep

This email address is being protected from spambots. You need JavaScript enabled to view it.

Stage 46 Sanctuary Island
OC#6
511700W
Thana Carthigaser
Thana Carthigaser

This email address is being protected from spambots. You need JavaScript enabled to view it.

Super OC - many stages
OC#1
511700W
TBA
Dilbagh Guha

This email address is being protected from spambots. You need JavaScript enabled to view it.

Stage 89
OC#1
649412G
No Active Committee
No Elected Rep

This email address is being protected from spambots. You need JavaScript enabled to view it.

Stage 90 Lakeside Central
OC#1
645328R

Michael Montague

Michael Montague

This email address is being protected from spambots. You need JavaScript enabled to view it.