Outdoor Gymnasia
Three outdoor gymnasia have been installed in parks within Sanctuary Lakes Resort and are ready for your use.
The static gym equipment is provided for defined exercises for which instructions are provided within the gym area. A set of eight exercises is illustrated. The equipment provides for sit ups, push ups, vault bar, chin up, body curl, step up, seated dips & log hop.
The gyms are located at:
Times Square Park near the corner of Rockefeller Way,

South Shore Gardens Park in Middle Park Drive, and

Skyline Park at the corner of Sanctuary Lakes East Boulevard and Coastal Promenade.
This is not playground equipment. It is designed for adult use by those on a planned fitness program. Guidelines are provided on the number of times each activity should be performed to help you develop a program that suits your fitness level and objectives. Children under 12 years should only use the equipment under adult supervision.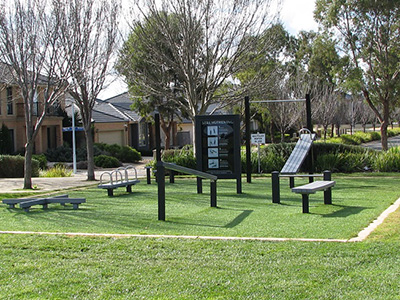 Outdoor gymnasia provide an alternative opportunity to exercise in a park near where you live or to which you can walk, cycle or jog. They complement the exercise opportunities at the Recreation Club, which is crowded at peak times and takes longer for most residents to reach. Car parking is not provided at these parks. We expect that people will walk, cycle or jog to the parks.